Butternut Squash Skillet Lasagna
Butternut squash lasagna is a great way to make a meatless Italian dish that's, well… just utterly delicious. With the noodles and the cheese and the spice and if you're a glutton – the brown butter – it can practically taste like dessert.
While the directions seem a bit lengthy, this dish is pretty simple to make and when made more than once, gets easier and easier each time. It can be made in about an hour and is very rustic, thick and hearty and perfect for the autumn fall time of year. It's Soul warming comfort food with a little twist.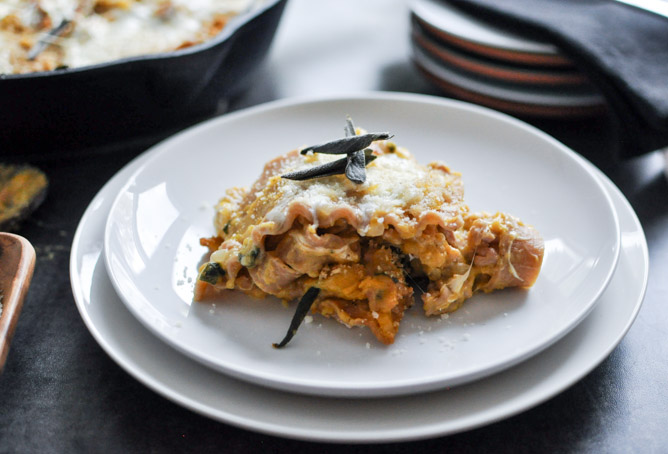 Butternut Squash Skillet Lasagna
Servings: 4 // Prep Time: 35 minutes // Cook Time: 25 minutes // Total Time: 1 hour
6 whole wheat lasagna noodles, broken into thirds
4 cups cubed (1-inch) butternut squash
3/4 teaspoon salt
1/4 teaspoon pepper
1/4 teaspoon nutmeg
2 tablespoons olive oil
3/4 cup low-sodium chicken or veggie stock
1 sweet onion, diced
2 tablespoons freshly chopped sage
1 pound ground chicken breast
1 tablespoon unsalted butter
1 tablespoon flour
2 cups low-fat milk
1/4 cup Ricotta or Mascarpone cheese
1/2 cup finely grated Parmesan cheese
6 ounces mozzarella cheese, sliced into rounds
1 cup cooked spinach (8 oz uncooked)
2 tablespoons panko or Italian bread crumbs
Fresh sage or basil leaves for topping
Preparation
1. Preheat oven to 375 degrees F.
2. Heat a large oven-safe skillet over medium heat. Add 1 tablespoon olive oil, then add in squash, pepper, nutmeg and 1/4 teaspoon salt. Stir to coat well and add in 1/3 cup stock.
3. Cover and cook until softened, about 10-12 minutes. Once soft, remove squash with a large spoon (and any extra stock) and place in a bowl. Mash well with a potato mashed or fork.
4. In a big pot, prepare the water for pasta. Bring water to a boil, add a touch of salt and a touch of oil. Do not cook pasta all the way. Shave about 2 minutes off the time since you will cook the pasta more in the oven. While water is boiling and pasta is cooking, continue with the rest of the recipe.
5. With the skillet still hot, add in the other tablespoon of olive oil, then toss in onion with 1/4 teaspoon salt. Stir well to coat and for 2-3 minutes until slightly soft.
6. Add in ground chicken with remaining salt to season. Break apart the chicken using a wooden spoon, continuing to do so as it cooks so it's in small pieces. Cook until golden and cooked through, about 5-6 minutes. Once cooked, remove chicken and onions and place in a smaller bowl.
7. With the skillet still hot, add in butter and once it sizzles, whisk in flour. Cook for 1-2 minutes until golden and nutty, then add in milk, stirring constantly. Once the sauce begins to thicken and bubble on the sides, whisk in Ricotta or Mascarpone cheese and Parmesan – with a pinch of nutmeg. Turn the heat down to low and let simmer.
8. Add the cooked spinach and the mashed butternut squash into the sauce mixture and whisk to combine. If it's too think, add in more stock, beginning with 1/4 cup, stirring until it's just a bit thinner. You can also taste the "sauce" here and season more if desired.
9. Next, add in the chicken and onion mixture, while slowly adding the lasagna noodles. Push the noodles around and separated them to spread them throughout the skillet. Top with sliced mozzarella, panko and sage (or basil) leaves.
10. Bake for 20-25 minutes, or until cheese is golden. Let sit for 5 or 10 minutes, then serve. This delicious fall dish reheats nicely, but always make sure you add add some liquid when reheating, so it doesn't dry out.